Skip to content
Plug, Play, Relax in the Aptos.
The Aptos™ spa has 18 hydrotherapy jets, including a whirlpool jet. Entertain up to 5 adults comfortably in this barrier-free seating design. The spa comes equipped with Plug-N-Play technology which means no electrical hard-wiring is required – just plug into a standard 110v outlet. This spa, by Freeflow spas, nicely rounds out any backyard.
Aptos Features
ENERGY EFFICIENT HOT TUBS.
For low monthly operating costs.
Freeflow Spas hot tubs are fully foamed for maximum energy efficiency. Paired with the thermal locking cover (that comes with your spa purchase), you can keep your warm water in so that it's ready to use whenever you need a soak. Plus, our digital control panel puts the power in your hand to activate eco-friendly modes that only have your hot tub run when you need it to. No more water filter cycles or hot water escaping.
DO IT YOURSELF!
Simply plug it in and enjoy!
Hate spending long hours assembling things? So do we. Save money and time with our Plug-N-Play technology which requires no additional wiring or expensive 230v installation. Simply fill up your hot tub, plug it into any standard 110v outlet, and enjoy!
PORTABLE HOT TUBS YOU'LL LOVE.
Hot and ready whenever, wherever you are.
Freeflow Spas has hot tubs that can fit your backyard, including condo balconies and porches. We even have a triangular portable hot tub for corner spaces! Refer to product specifications for weight.
Don't own your home? No worries! Our spas are perfect for renters too, because there's no custom installation required. Our spas can be filled with a garden hose and plugged directly into any standard 110v outlet.
Do you move a lot? Take your spa with you. Freeflow Spas' lightweight unibody design means you can easily take it with you.
Aptos Specifications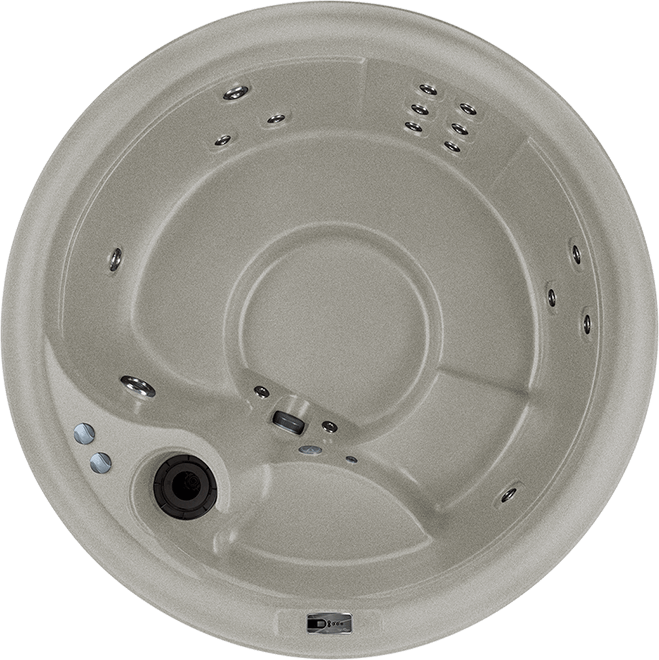 | | |
| --- | --- |
| Seating Capacity | 5 Adults |
| Dimensions: L x W x H | 6'6"R X 34" |
| Water Capacity | 265 gallons |
| Dry Weight | 359 lbs. |
| Shape | Round / Non-Lounge |
| Jets Qty. | 18 with stainless steel trim |
| | |
| --- | --- |
| Water Feature | Whirpool Jet |
| Ozone* | No |
| Heater | 1KW / 4KW |
| Pump | 1.5 BHP, 2-Speed |
| Filter Size | 50 sq. ft. |
| Filter Lid | No |
| Light Type | LED |
| Electrical Configuration** | 110v Plug-N-Play includes GFCI power cord / 230v convertible |
| Colors | Sand, Taupe |
| Cabinet Type | Rotationally Molded |
| Cover Color | Chestnut, Slate, & Caramel |
Notes
Note: All Spas can be converted to 230 volts
*Ozone can be installed at time of purchase.
**GFCI protected sub-panel required in 230v mode.
Every Freeflow Spa comes with a 5-year structure warranty, 5-year shell/surface warranty, 1-year equipment warranty, 1-year labor warranty, and 1-year plumbing warranty.
X
DesignStudio Bug Report
Hello! please let us know if you found a bug so we can fix this ASAP